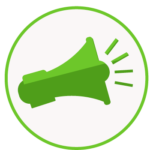 VOICE
Our platform for voice messages allows sending phone calls to a set of telephone numbers (fixed and mobile) in an specific dialing Schedule.
INFORMATIVE VOICE
This service sends the same audio for all the recipients. This audio can be recorded from our platform or professional voices.
INTERACTIVE VOICE
This feature sends custom audios to each user. These campaigns allow to set a question or indicate the user which choices are available to press as an answer in the phone.